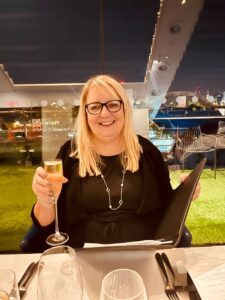 A massive CONGRATULATIONS to our Ellis Recruitment Group Finance Manager Pam Brewster, who has won Ellis Recruitment Group's Star of the Quarter!  Pam has been supporting our Sales teams and assisting Clients, Candidates and Contractors for the Ellis Recruitment Group for over a decade!  Pam is the go-to within the group for anything finance-related, as well as a much loved, straight talker.  If you ask Pam for advice, she'll always give you a different perspective and has a heart of gold!
How does it feel to be Star of the Quarter, Pam?
I was absolutely speechless – which is no mean feat.  It's really lovely to be recognised and appreciated; it made my day.
Tell us an interesting fact about yourself that we wouldn't know when you are in your Finance Manager role?
When I was 18, I was the youngest pub licensee in the country for a company called London Hosts.  I worked in the Dog and Duck in London; I would cover the manager during holidays.  Then when he moved to pastures new, I took over the licence – at 18!
You get the choice to choose what you want, how are you planning to spend your reward?
I'm booking in for a meal with plenty of bubbly at the Aviator in Farnborough, UK.  I had a lovely afternoon tea there with my husband recently and am very much looking forward to sampling the other menu offerings!
Talk us through a 'typical' day as a Finance Manager?
I start the day by catching up with the Finance Director and the rest of the Finance Team.  Our priorities and workflows change daily, so this catch-up is vital to support the Sales Teams efficiently.  An essential part of my role is updating and checking the accounts, carrying out reconciliations, highlighting accounting discrepancies, and providing efficient solutions.
Another hugely significant part of my role is troubleshooting and problem-solving to ensure that the invoicing and payment process is smooth for both Clients and Contractors.  There's a surprising amount of customer service that goes on behind the scenes.
You've been with the Ellis Recruitment Group for 10 years! What changes have you noticed within the company in that time?
The most significant change is the size of the company as a whole.  Our Contractors on the books were in double figures when I joined; that number has exploded exponentially!  When I joined Ellis Recruitment Group, our founding brand, Oracle Contractors, operated from three offices; we now have six worldwide sales brands dotted across the world – unsurprisingly, our internal headcount has quadrupled with that level of expansion.  We have grown beyond recognition, but Ellis Recruitment Group is still a values-driven company that offers a great support network for all its people.
How has your role changed over the last 10 years?
My role has changed massively.  There were only two support team members (IT and invoicing) when I first started – we now have a fully dedicated Finance and Support team with more varied workloads as the company has expanded.  The increased business also means greater responsibility.  Another noticeable change is the move towards automated specialist platforms and accounting software.
How would you describe the culture at Ellis Recruitment Group?
I feel like we have a great support network; we celebrate each other's wins, help out where we can, and have a great camaraderie.  I have made so many great friends past and present during my time at Ellis Recruitment Group, and each one has made my career a fantastic learning experience.  We now have quadrupled the number of staff within the Ellis Recruitment Group and grown beyond recognition.  Still, Ellis Recruitment Group offers a great support network for all its people and is a community motivated by solid values.
Well done, Pam, an award thoroughly deserved!