What is it like to work with the Ellis Recruitment Group? Why would you join? We have the answers to some of the key questions our new recruits ask during their interview:
What training does the Ellis Recruitment Group provide for new starters?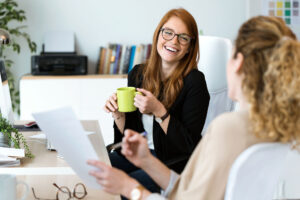 The Ellis Recruitment Group have always been proud of the development of our existing sales team, many of whom had not previously worked within the sales environment. Many entered the recruitment industry with the Ellis Recruitment Group and started their recruitment training from scratch – we enjoy seeing them continue to exceed expectations.
We decided to take this entry-level career plan a step further by implementing our Accelerate Recruitment Training programme.  What sets our recruitment training apart from others is that we do not target a specific demographic. Those who join our scheme are serious about building a career in recruitment; they demonstrate that they can live our values, have commitment, passion, resilience, and have great personalities.
Alongside the Accelerate Recruitment Training, we are committed to evolving our people's careers, understanding their drivers, and supporting their growth. From our mentoring scheme to the cross-brand knowledge sharing – it's great seeing everyone develop.
Why should people join the Ellis Recruitment Group?
The people!  We have a fantastic, diverse team and a supportive culture. We are passionate about our 'always listening' approach – everyone has a voice, and we are always interested in our teams' ideas and recommendations. We continue to develop an engaging culture.
Ellis Recruitment Group places value on people and their growth. Our passion is creating a culture that everyone wants to be a part of; the focus is on the development of people and an environment of positive change.
We never compromise on quality when recruiting for our team; we seek alignment with our values and understand their "Why." Recruitment is not easy, but the rewards are high, and if you want to succeed, you need a "Why!" Everyone in our team brings something unique to the table, but all have a passion for success.
Our internal recognition scheme is just one way in which we celebrate our values. Each quarter, we recognise our Ellis Star, which is awarded based on our company values. We are proud that everyone has embraced the scheme, and the volume of recognition activity continues to increase month on month, where everyone can officially recognise their colleagues across our global team.