In Part Two of "Why join the Ellis Recruitment Group?" we have more insights into what it feels like to be part of the Ellis Recruitment Group team. Make sure you have read Part One, which takes a look at the Accelerate Recruitment Training provided to new starters and people starting in the recruitment industry.
Do people at the Ellis Recruitment Group have a voice?
We are always listening at the Ellis Recruitment Group. To ensure this is documented as well as in regular conversation, we conduct engagement surveys, which have above usual industry standard participation. We strengthen the popular processes and implement change where necessary, including adding to our training and development opportunities, monthly well-being initiatives, incentives, and volunteering opportunities.
As a privately held company, we can be reactive and make blanket changes quickly and easily to benefit our employees. If changes are going to improve employee engagement or align with our growth strategy, we can make it happen quickly.
What makes the Ellis Recruitment Group stand out from other recruitment groups?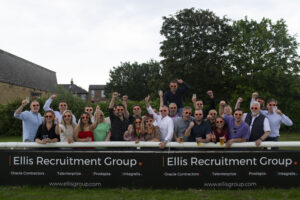 At Ellis Recruitment Group, there is no feeling of hierarchy. We have a structure in place, but no one sits in a segregated office; we don't do politics. Our senior team is visible and connected, which has an impact on how engaged our teams feel. It's not uncommon to receive a call or e-mail from the CEO checking in with the team; our directors play a massive part in our Accelerate Recruitment Training programme and are in all of our recognition and incentive activities.
We believe relevant KPIs are important within sales teams as they support your focus, development, and growth; they should complement our strategy and culture. We know that when we work as one, we win! To ensure that our culture focuses on a team ethos, everyone shares business knowledge, and we celebrate everyone's success.
The pandemic impacted the number of opportunities where we have been able to celebrate success as a team face-to-face, but we still gave rewards in as many ways as we could. Now we can come together, we most definitely do! We award our teams' standout achievements, target hitting, and long service — but most importantly, we enjoy coming together and having fun. So far this year, we've had all-expenses-paid summer parties, numerous gourmet lunches, team get-togethers, weekend trips to Madrid, and we've been planning our Christmas EXTRAVAGANZA for months (after that, we're off skiing!).